The Ornamented Chants of Georgian Chanting represents the first fundamental work in the Georgian academic realm in which a unique occurrence of ecclesiastical chant – ornamented chants (chrelebi) and ornamented chant texts (chrelta nuskhkebi, an original system of writing down a musical melody), and other forms known today of showing the "chreli" phenomenon in the Georgian chanting tradition have been studied. Texts preserved in Georgian manuscripts containing ornamented chants will become available for the first time to a wider audience, with the accompaniment of high quality visual and audio examples.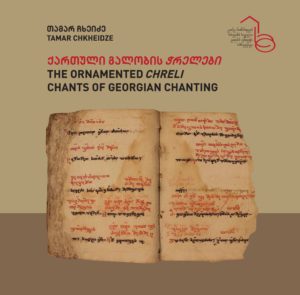 The study will be of help to Georgian and foreign scholars, students, and members of the public interested in learning about Georgian Christian art. In this aspect, the publication will facilitate the growth of the awareness of the art of Georgian chanting in the international academic and art realms. This work was supported by Shota Rustaveli National Science Foundation of Georgia (SRNSFG) [#SP-21-447]. The publication's financial support is from the Georgian Chanting Charity Foundation. The project was revived by Orthodox Theological Higher Educational Establishment – Giorgi Mtatsmindeli Higher Educational Institution of Ecclesiastical Chant.
 Appendix is available
here.