The publication continues the "Teach Yourself Georgian Folk Songs" publication series by the
Georgian Chant Foundation and this time it features the study of Acharan folk songs. This is a score
collection for study purposes accompanied with audio CDs. The publication is intended for professional
as well as amateur musicians. These songs are performed by the Moqvare and Elesa ensembles from
the Keda municipality.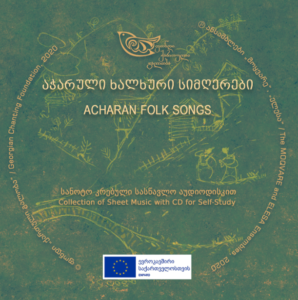 The audio material included in the collection was recorded in 2019 during a Georgian-German expedition by the mobile Georgian Chant Studio from the Giorgi Mtatsmindeli Chant University. During the expedition, the German party was represented by Professor Frank Sherbaum and ethnomusicologist Dr. Nana Mzhavanadze (art history) of Potsdam University, whom through financing by the German Research Foundation, are conducting a three-year project (2019-2021) "Computational Analysis of Traditional Georgian Vocal Music" with the University of Erlangen. The expedition's Georgian members were represented by the International Research Center of Traditional Polyphony of Tbilisi State Conservatoire and by the Georgian Chant Foundation.
Concept and Director of Series – Anzor Erkomaishvili
Editor – Rusudan Tsurtsumia
Project Director and Compiler – Nino Razmadze
Notation, Sheet Music, and Technical Support – Levan Veshapidze
Editor of the Sheet Music – Nino Razmadze
Author of Introduction and Annotation Editor – Nana Valishvili
Translator – Eirik Halvorson
Designer – Davit Jamrishvili
Typesetting – Nino Razmadze
CDs prepared for release at the "Georgian Chanting" Studio of Chant University
Sound Engineers: Giorgi Jolbordi, Vakhtang Tsetskhladze
© საქველმოქმედო ფონდი "ქართული გალობა" / Georgian Chanting Foundation
© თბილისის სახელმწიფო კონსერვატორიის ტრადიციული მრავალხმიანობის კვლევის საერთაშორისო ცენტრი / The International Research Center for Traditional
Polyphony of V. Sarajishvili Tbilisi State Conservatoire
© კულტურა მომავლისათვის / Culture for the Future
ანსამბლი "ელესა" / Ensemble ELESA
ანსამბლი "მოყვარე" / Ensemble MOQVARE
 Audio material is available 
here.