The Publication is Dedicated to the 90th Anniversary of the Establishment of the
Mestia Regional Folk Song and Dance Ensemble
This volume allows the reader to study Svan musical folklore. It consists of a collection of sheet music with two CDs for self-study. This edition is geared not only towards conductors and professionals, but amateurs and independent learners as well. The recordings were made in the 1980s in the Voice Recording Studio "Melodia", and this unique phonoarchive was donated by Anzor Erkomaishvili to the Georgian Chant Foundation.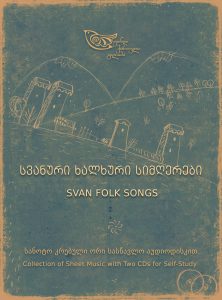 The songs are performed by "Riho", the Mestia Regional Folk Song and Dance Ensemble, directed by Islam (Eptime) Pilpani. The Georgian Chanting Foundation recognized Islam Pilpani as a "Benefactor of Georgian Folk Song" (2013) and ensemble "Riho" as a "Benefactor of Georgian Folklore" (2016) for preservation and popularization of Svan songs.
Concept and Director of Series Anzor Erkomaishvili
Editor of Series Nino Kalandadze-Makharadze
Compiler Maka Khardziani
Recording Studio Firm "Melodia"
Arranger Mikheil Kilosanidze
Project Coordinator Nino Razmadze
© საქველმოქმედო ფონდი "ქართული გალობა" / Georgian Chanting Foundation
ანსამბლი "რიჰო" / Ensemble RIHO
The publication was non-profit and it is available in electronic form.
Audio material is available here.