The present catalogue was prepared through the joint efforts of the State Museum of Georgian Folk Songs and Instruments and the Georgian Chanting Foundation. This project has acquired an international dimension through the collaboration of Georgian specialists and foreign experts.
The first section of the bilingual (Georgian-English) publication is a photo-album containing more than 370 pictures of 153 instruments. Clearly, because of the book's format, it was impossible to include all the instruments kept in the museum archives, yet there was a maximal attempt to at least focus on examples of various groups, sub-groups, types, or origins.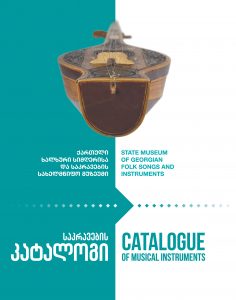 Each instrument has been assigned its own number in the photo-album. This number is indicated in parentheses right by the instrument, enabling one to find the relevant information about the instrument in the second section of the publication – the catalogue.
The descriptions of all the instruments kept at the State Museum of Georgian Folk Songs and Instruments is given in the catalogue (286 instruments). This information consolidates a number of parameters: the series number, registration number, instrument maker's identity, date of exhibit's creation, place where it was made, material, dimensions, and its current state.
A universally recognized system belonging to the well-known ethnomusicologists Curt Sachs and Erich von Hornbostel was used when classifying the instruments.
The publication was non-profit and it is available in electronic form.